We are SO EXCITED to share that Four Sigmatic has come on to support the Modern Mamas Podcast and to bring you guys a great deal! Get 15% off your Four Sigmatic order with code: modernmamas!  If you've been following along, you know that I am loving the impact these deeply medicinal real food supplements have had on my life, and I can't wait to hear what you think too. Happy shrooming, friends ♡
"Guest Interview – Lily Nichols on Postpartum Nutrition"
In this episode, Laura sits down with  Lily Nichols to tackle your postpartum nutrition questions! From eating for milk supply and which macronutrients are most important postpartum, to intermittent fasting and supporting our bodies through weaning. This episode is loaded with insight! Don't miss it .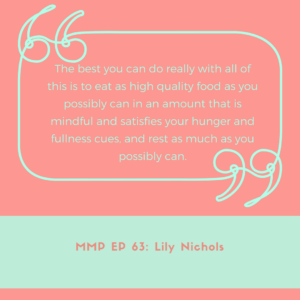 Lily Nichols is a Registered Dietitian/Nutritionist, Certified Diabetes Educator, researcher, and author with a passion for evidence-based prenatal nutrition and exercise. Her bestselling book, Real Food for Gestational Diabetes (and online course of the same name), presents a revolutionary nutrient-dense, lower carb diet for managing gestational diabetes. Her unique approach has not only helped tens of thousands of women manage their gestational diabetes (most without the need for blood sugar-lowering medication), but has also influenced nutrition policies internationally.
Lily's second book, Real Food for Pregnancy, outlines the problems with current prenatal nutrition guidelines and provides the evidence—over 920 citations—that supports a real food diet to optimize maternal and fetal health. Lily is also creator of the popular blog, www.PilatesNutritionist.com, which explores a variety of topics related to real food, mindful eating, and pregnancy nutrition.
Links and Such:
Connect with Lily: realfoodforpregnancy.com (get a FREE chapter of her new book!), @lilynicholsrdn
Real Food for Gestational Diabetes
Real Food for Pregnancy
More on properly preparing nuts
Episode 39: Lily Nichols on Prenatal Nutrition
Real Food for Pregnancy (Chapter 12 all about postpartum)
Paleovalley Organ Complex (15% off with code: radicalroots)
Instant Pot
Meatloaf with liver recipe
Chlorella
Episode 42: Megan Garcia on herbs
Selenium
Connect with us:
Email: modernmamaspodcast@gmail.com