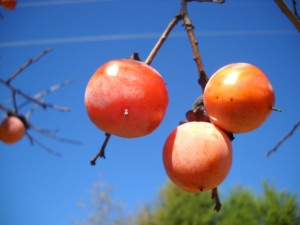 I LOVE persimmons – persimmons with nut butter, persimmons in salads, persimmon muffins, persminis, and now, in what is potentially my new favorite persimmon thing: my gluten free persimmon loaf. This loaf is somewhere between a bread loaf and a blondie, with the perfect amount of sweet and a heartiness that leaves you feeling satiated and happy. I've found it to be an amazing pre-workout snack with a slather of almond butter, and I've made it every week since my first loaf (with a few tweaks to ensure it's perfect for you). With any luck, you can find this fruit growing on trees in your neighborhood like I do (maybe pick with permission though).
I hope you enjoy as much as we do. 'Tis the season for persimmons and sharing the love, so I'll certainly be making this for the people I love this season (including myself). ♡
Gluten Free Persimmon Loaf
Servings: 8
Difficulty: easy
WHAT YOU NEED:
WHAT YOU DO:
Preheat oven to 350 degrees
cut the stem tops of the persimmons, place them in your loaf pan, and put it in the oven for 20-30 minutes until persimmons are just barely bursting
combine all dry ingredients in a large bowl
pull out loaf pan, dump persimmons and butter in Vitamix or blender, and blend until smooth
butter your loaf pan and set aside for now
ensure the persimmon mixture isn't too hot (should not be steaming), add egg and vanilla and blend again until smooth
now scoop the persimmon mixture into the dry ingredients and mix until blended into a batter
if you're using walnuts, mix them in
pour/scoop batter into loaf pan and spread evenly
top with more walnuts and cranberry sauce if desired
bake for about 40 minutes or until a knife comes out clean
let cool, slice, ENJOY! Note: I like this best fully cooled down because the texture and moistness (yes I said moistness) is amaaazzing!
I love this with a slathering of almond butter! If you make it, let me know what you think. I sure do love persimmon season. Happy holidays, friends!
♡ Laura