I meant what I said when I titled this blog post. In my case, a little planning is going to go a long way…. all the way to Utah this weekend…
I have a routine I follow in the days leading up to a travel weekend, and this week is no different. I get to fly out to Salt Lake City this Friday to work a CrossFit Level 1 Seminar at Ute CrossFit, and just about 15 minutes of routine prep a day or two in advance helps me stay on track and keep my energy high all weekend, so I can do what I love and be my best for the amazing participants I get to work with. I did this last weekend too before my trip to a seminar with the awesome people in the picture up there.
Whether you are traveling or just trying to stay on track during the busy week, this recipe is easy to make, tastes delicious, and packs away for easy access in a pinch! It makes up about 6 solid meals to tie me over between teaching. Plus it's entirely grain and dairy free, and jam-packed with awesome micronutrients and healthy animal fats!
Introducing my famous (and by famous I mean famous to my husband and me) Frittata on the Go!
Paleo Frittata (GF, NF, DF, SF)
Servings: 6
Difficulty: moderate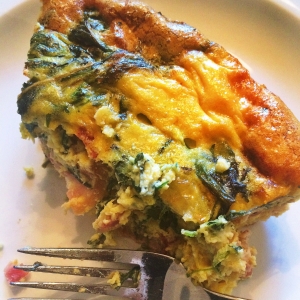 WHAT YOU NEED:
4 cups oven roasted veggies of your choice chopped up (I used broccoli)*
3 oven roasted sweet potatoes cubed*
4 cups of kale or dark leafy green of your choice
4 ounces of pastured ground beef, bison, or pork
14 organic pastured eggs
a splash of coconut milk out of the can
spices of your choice (I added a bit of pepper, garlic salt, and oregano)
sprinkle of sea salt (to taste)
2 TB of Tin Star Foods ghee (or coconut oil works too)
cast iron skillet
*I pretty much always have oven roasted broccoli and sweet potatoes in my fridge. I cover a cookie sheet with broccoli and halved sweet potatoes face down, cover it all in coconut oil, and pop it in for as long as needed (sweet potatoes will take longer).
WHAT YOU DO:
Preheat the oven to 350 degrees
Use a spoon to cover the inside of a room temp cast iron skillet with Paleo Butter (or coconut oil). Cover it liberally so there's no sticking!
In another pan, cook up the ground meat and add your salt and spices
Meanwhile, take a few giant handfuls of kale and put them into the skillet
Then throw in your sweet potatoes and broccoli
Toss your cooked ground meat in on top
Make sure everything is evenly distributed and sprinkle sea salt to taste
In a medium bowl crack open all of your eggs, pour in some coconut milk, and whisk
Pour eggs on top and, again, make sure it is all evenly distributed
Stick that bad boy in the oven for 30-35 minutes until the top browns and it's not jiggly when you shake it

Slice into 6 pieces, stick them in glass tupperware, and you're ready to go!
Enjoy friends! And as always, Live Rad. 
♡

Laura