You guys voted, and now I am delivering! A super easy and delicious smoothie bowl with the perfect texture and even balanced macronutrients to keep your blood sugar in check and your belly satiated for hours. I've found this to be the perfect midday meal (that I can eat out of a mug) to keep me fueled up for training, breastfeeding, and everything in between. With incredibly nourishing supergreens from Paleovalley, energy dense bananas, anti-inflammatory turmeric, protein-packed collagen and grass fed whey, and nutrient dense coconut, this is a powerhouse smoothie bowl without the sugar bomb you'll get from ordering one out in the world somewhere.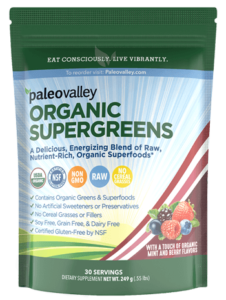 I've had one of these EVERY SINGLE day this week. I've found that I can actually make the base hours ahead of time, so while little one takes her morning nap, I blend one up and stick in the freezer. Then, about 30 minutes before I want to eat, I pull it out to thaw a bit, get some things done, and then add topping and dive in while I nurse the kiddo. It's working out pretty perfectly. This is also great on the road! I made the base the night before this weekend's camping trip, pulled it out just before we hit the road, added toppings, and we were off! Then about an hour into our trip, I had a delicious glass tupperware of goodness to eat while we drove – skipping the need for a junky food stop and avoiding having to spend extra money. Win!
This will be on repeat over here for the foreseeable future; I'll just have it on rotation with my acai version (coming next week to the blog because I can't hold out on you guys, and they are BOTH delicious).
A little more about the greens: I'll preface this with letting you know that I am NOT a greens person, or even a smoothie person, really. I like a beefed up blended coffee drink in the morning (see here), but other than that, I prefer to eat my food. I like textures and a mix of flavors, which is why I opted for a bowl and not a drink. Anyways, when I saw these greens from Paleovalley, with 100% organic certified ingredients, no cereal grains, and zero sweetener, I knew I had to give it a shot. That's a rarity in the greens world. Most other products contain at least some conventional ingredients that have been sprayed with chemicals and irradiated. And, since I am breastfeeding and recovering from childbirth (that takes on average 270 days), I need as much solid nutrition as I can get, and because I can get these into a smoothie bowl on the go or one handed while nursing, I am SOLD. They taste great, are easily hidden in this bowl, and are loaded with nutrition.
Don't forget, use discount code "radicalroots" for 20% off any Paleovalley order!
Banana Turmeric Smoothie Bowl
Servings: 1
Difficulty: easy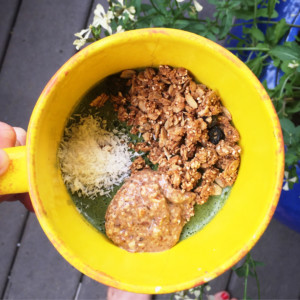 WHAT YOU NEED:
for the base:
toppings (pick and choose or create your own!):
WHAT YOU DO:
put banana, yogurt, and 1/2 of milk in the blender and blend until just combined
add powders and remaining milk and blend again until everything is combined
pour into a bowl and place in the freezer (if you'd like thicker consistency) for about 30 minutes (note: I've made mine hours or even the night before; in this case just pull it out about 30 minutes before your ready to eat so it thaws out and gives you that yummy texture; just stir and enjoy!)
remove from freezer, top with your favorites, and…
ENJOY!!
I've got the acai version coming at you next week, so stay tuned! Love you guys. I mean that too, the feedback, comments, and love mean so much to this mama.
♡ Laura