Since having a baby, I've consistently been looking for no fuss food shortcuts that DON'T sacrifice flavor or nutrition. Unfortunately, the easiest to grab, quickest to eat foods are usually pretty full of crap (read: freezer meals). Knowing what I do about nutrition and how what I eat directly impacts my little one through breastmilk, I simply am not willing to make that sacrifice.
Thankfully, our first month as parents consisted of so many amazing, nutrient dense meals delivered by our incredible tribe. I can't even express how much of a game changer that was. Hear more about our food train and tribe in Episode 7 of the Modern Mamas Podcast. But now, since our last meal has been delivered, and we are most often on our own for meals now, I've spent the last few weeks learning the ins and outs of making dinners while loving on a newborn. Evie is not a fussy baby (we're so blessed), but her most alert time of day is afternoon/evening, and it's important to me that I give her quality time when she's awake and alert. With that in mind, I've created shortcuts like this one that allow for nourishing, delicious food that comes together with little effort and little time. (Note: my husband is a HUGE help and we tag team dinners every night, which has actually become really fun for us).
These potatoes are really hard to mess up, and while I LOVE my wedge fry recipe, it's just a little more nuanced and time consuming (it's amazing how the thought of slicing potatoes with finesse is just not in the cards right now). Leave them in the oven too long? They just get crispier. This is actually how I learned that I love them most – after a happy accident of forgetting about them entirely. While the potatoes get crispy, throw some burgers on the grill, slice a tomato and avocado, and pull out some condiments, and boom a perfect burger meal in no time. It's quick meals like this that allow my husband and me to still have dinner together, which we both feel is super important. Easy to make and even easier to enjoy! Yum and yum.
Easy peasy and delicious. Enjoy!!
super crispy potato bits
Servings: 3
Difficulty: easy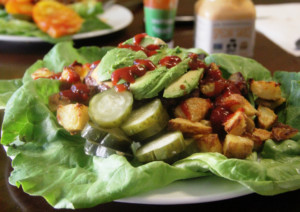 WHAT YOU NEED:
5 yukon gold or new potatoes
2 TB avocado oil or ghee
plenty of sea salt
water for boiling
Optional additions: 1 tsp cumin + 1 tsp garlic powder (I actually love them most simply with plenty of sea salt, but some like more flavors)
WHAT YOU DO:
fill a pot with enough water to cover potatoes and set to boil
preheat oven to 450F
cover a sheet pan with parchment paper
rinse your potatoes and cut into small cubes (exact consistency in size is not essential.. see? Easy.)
add potatoes to boiling water, and boil for 12 minutes or until soft enough to stick a fork in easily, but not too mushy
once done, drain potatoes, and throw them back in the pot, then, drizzle with oil or melted ghee, sprinkle with a couple pinches of sea salt and spices if you choose, and toss to coat all evenly
spread out on the sheet pan with space between pieces and put into the oven
let roast for 30-40 minutes or until super crispy (check half way through and give them a little stir), and if you want extra crispiness, set the oven to broil for the final 30-60 seconds
ENJOY immediately!
I hope you guys like these as much as we do. Simple steps. Hard to mess up. What's not to love! Happy eating!
♡ Laura