COOKIES! Who doesn't love a good cookie? Especially when it's got ooey gooey chocolate chips and the goddess of all nuts – the macadamia.
These cookies started from a deep craving for my mom's beloved oatmeal cookies. She has a recipe that's likely older than I am saved in her recipe rolodex that's tattered, worn, and oh so loved. Since I gave up gluten, she's morphed the recipe so I can still enjoy all of the oatmeal goodness, and the whole family approves. I made a few more tweaks on this new version of an old favorite, and now I'm bringing it to you guys.
Made with gluten free oats, almond flour, chocolate chips, and my all-time favorite buttery perfect nut – these crispy, yet chewy cookies will please everyone in the room, whether they eat gluten or not. So whip up a batch for your next get together (or to eat at home by yourself – no judgement), and watch eyes light up with joy. Because there's no joy like cookie joy, or maybe that's 9 months of pregnancy talking. Enjoy!
Chocolate Chip Macadamia Nut Oatmeal Cookies
Servings: 18
Difficulty: moderate
WHAT YOU NEED: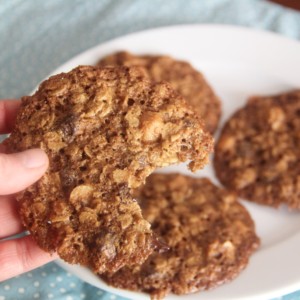 1/2 cup (one stick) grass fed butter, softened
3/4 cup coconut sugar
1 pastured egg
1 tsp vanilla
1/2 cup almond flour
1/4 tsp baking soda
1 tsp cinnamon
1/2 tsp sea salt
1.5 cups quick cooking gluten free oats (I like these ones)
1/2 cup chopped macadamia nuts (you can sub any nut here – walnuts are great too, but macadamia nuts are unreal)
1/3 cup dark chocolate chips (I like Enjoy Life)
WHAT YOU DO:
preheat the oven to 325F and cover a baking sheet with parchment paper
in a large bowl, cream together sugar and butter, and then beat in egg and vanilla
combine the almond flour, baking soda, cinnamon, and sea salt and stir into sugar mixture
mix in oats, nuts, and chocolate chips until just combined
drop by spoonfuls onto baking sheet (with plenty of room between because they flatten out – I fit 9 per sheet)
bake for 14 minutes for perfect crispiness
let cool and ENJOY!
I'd love to hear your thoughts on these ones. They didn't last long in our house and will be a favorite for sure. Tag me (@laura.radicalroots) if you make these and post! I LOVE seeing the photos of your creations. Happy baking!
♡ Laura