We've got a new Podcast Partner, and we are THRILLED! Paleovalley has come on board to support the Modern Mamas Podcast and to bring our wonderful listeners a great deal. Click here and use code "radicalroots" for 20% off your entire order. The Organ Complex has been a huge part of my fertility and postpartum journey, and now I use it as a part of Evie's first foods! And I use the Non-Denatured Whey and Beef Sticks every single day to keep me nourished through whatever life brings. Don't miss the deal! Thanks so much for supporting the podcast, listening in, and being a part of this tribe.
"Guest Interview: Diane Sanfilippo on Sugar and Carbs During Pregnancy and Nursing"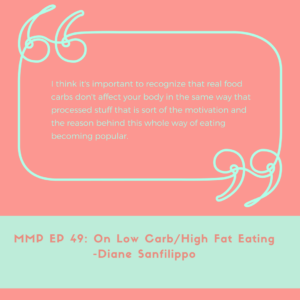 In this episode, Jess sits down Diane Sanfilippo, Certified Nutrition Consultant, Best Selling Author, Podcast Host Extraordinaire, and the wearer of many other impressive hats in the Health and Wellness world. This episode we speak to her knowledge on sugar and carbs (she is the author of The 21 Day Sugar Detox after all!), and we deep dive into LOADS of listener questions all about sugar and its relation to pregnancy, postpartum, nursing and more.  You will NOT want to miss this one!
Diane Sanfilippo is the owner and founder of Balanced Bites, a certified Nutrition Consultant, and two-time New York Times bestselling author of Practical Paleo, The 21-Day Sugar Detox and co-author of Mediterranean Paleo Cooking. Diane holds a B.S. from Syracuse University and is certified in holistic nutrition from Bauman College, holistic lifestyle coaching from the CHEK Institute, and Poliquin BioSignature Modulation. She writes for her popular health blog – balancedbites.com – and is co-host of the top-rated weekly health podcast, "The Balanced Bites Podcast," available free from iTunes. In September 2016 Diane released an updated and expanded 2nd edition of her runaway hit Practical Paleo which has sold over half a million copies and spent a total of 97 weeks on the New York Times bestsellers list.On January 2nd, 2018, Diane released The 21-Day Sugar Detox Daily Guide, a day-by-day handbook for her popular program, The 21-Day Sugar Detox (#21DSD).  Diane lives in San Francisco with her husband, Scott, and two fur kids.
Links and Such:
The 21 Day Sugar Detox
The 21 Day Sugar Detox Daily Guide
The 21 Day Sugar Detox Cookbook
Practical Paleo
Balanced Bites Master Class
Find Diane on Instagram
Connect with us:
Laura – @laura.radicalroots
Jess – @jess.holdthespace
Laura's website – https://myradicalroots.com/
Jess' website – https://www.holdthespacewellness.com/
Email: modernmamaspodcast@gmail.com
Any thoughts or comments? Leave them below. We love hearing from you. Please subscribe, rate, and review! We're so glad to have you as a part of our tribe!
♡ Laura