This is an extra special post for a few reasons: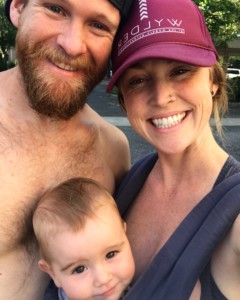 Reason 1: My husband created this recipe from scratch with love (even low carb), inspired by our evenings alone together after babe goes down shamelessly addicted to The Great British Baking Show.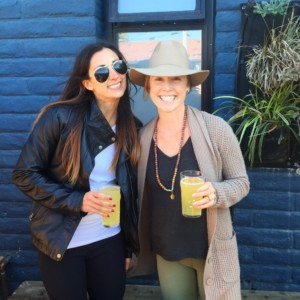 Reason 2: One of my favorite humans was in town visiting all the way from Jersey, and she helped coin the name "Buhskuts" as we sat around the table sipping wine and speaking in our most British accents possible. Biscuit turned to buhskuht, and the name stuck. So now, every time I bite a buhskut, I'll think of my friend Kristin (The Girl with the Butter).
Reason 3: My first Mothers Day as mama to Evie Wilder is just around the corner, and my husband will be baking a batch for a very special Sunday brunch. Just the three of us munching eggs, bacon, and buhskuts. Oh so grateful.
So without further ado, a flakey buttery low carb version of a very British staple. They're perfect for a summer treat, enjoyed with fresh berries and my favorite Living Cultures Superfoods yogurt (yum). Enjoy every bite, and know these were created with love. I hope you feel that love as much as I do. Hugs and happy Mothers Day to all of you mamas out there. Let's be real, every day is our day ♡
Buttery Biscuits (Aka: Buhskuts)
Servings: 6
Difficulty: moderate
WHAT YOU NEED: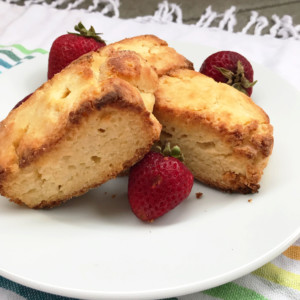 WHAT YOU DO:
preheat oven to 400F
mix together all dry ingredients into stand mixer bowl
add butter, and mix until mix is in tiny pea sized pellets
add buttermilk and mix immediately, until loose, somewhat dry dough forms
on countertop, shape dough into 6″ x 6″ square, cut into 4 equal parts, and stack them on top of each other
roll stack out into a square that is an even 1.5-2″ thickness, and cut into 6 equal pieces
place into freezer on baking sheet for 10 minutes
place in oven and reduce heat to 385F
bake between 20-25 until buhskuhts are golden brown
let cool and enjoy (we love them warm with butter or cooled with Living Cultures Superfood yogurt and berries)
*Notes:
work quickly so the butter stays as close to frozen as possible
work the dough as little as possible so it keeps fluffy and flakey
I hope you enjoy these as much as we do! If you make them, I'd love to hear your thoughts or see a photo! Tag @laura.radicalroots.
♡ Laura