In case you missed it, we've got news! Paleovalley has come on board to support the Modern Mamas Podcast and to bring our wonderful listeners a great deal. Click here and use code "radicalroots" for 20% off your entire order. The Organ Complex has been a huge part of my fertility and postpartum journey, and now I use it as a part of Evie's first foods! And I use the Non-Denatured Whey and Beef Sticks every single day to keep me nourished through whatever life brings. Don't miss the deal! Thanks so much for supporting the podcast, listening in, and being a part of this tribe.
"Guest Interview: Eliza Parker Returns for Belly Crawling!"
In this episode, Laura sits down for a wisdom filled chat with Eliza Parker on her 4th MMP appearance. We dive deep into a topic with little recognition but immense importance: BELLY CRAWLING! The why, how, when, and what all in one place. We even talk about how EVERYONE should give it a try no matter what age and the reasons why movement and emotion are so intertwined. Don't miss this one.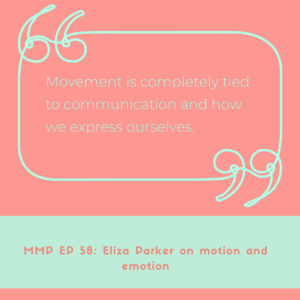 A certified Infant Developmental Movement Educator, Aware Parenting Instructor, Body-Mind Centering® Practitioner, and trained Feldenkrais® practitioner, Eliza respects babies as whole people who enter the world knowing how to communicate, learn, and self-heal within relationship. Her Conscious Baby practice employs a unique approach to baby-led "I can do it myself" milestone development, as well as attunement to non-verbal cues and crying. Eliza's life-changing perspectives and respectful solutions toward common parenting questions transcend "typical" parenting advice. Her work addresses babies on the "well baby" spectrum and those experiencing challenges such as motor delay, difficulty in tummy time, and hip dysplasia.
Links and Such:
Episode #8 & 9 – Liz Wolfe
Episode #25 & 26: Eliza Parker on Aware Parenting
DNS
Belly crawling in slow motion 
Types of crawling
Floor Surfaces: Soft Ones & Smooth Ones Side to side
A nifty way to hold your baby
Axis, upper-lower, side-side, cross-lateral
The body of work IDME comes from)
More on IDME
Where to find Eliza:
consciousbaby.com
eliza@consciousbaby.com
Faceboook
Connect with us: