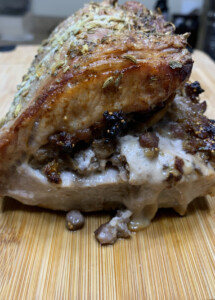 The began as a wish to create some food traditions around the New Year. I did some reading and research (with much more to do to truly understand the cultural root of these traditions and celebrations), and discovered that in many cultures, pork is a traditional centerpiece on New Years day to promote luck and prosperity.
I also happened to have a large bag of dried figs, and a hankering to combine them both, so I went to work on this recipe, featuring my favorite herbs, a local pork loin, and so so much flavor. It's a recipe with an outcome that makes it feel like you've spent hours in the kitchen, but really only takes about an hour total. I hope you'll enjoy this with ones you love and feel the love and luck that went with its first creation in our kitchen.
This bake pairs beautifully with the clean crafted Gallivant Zinfandel (fruity and bold with .5g sugar and so much flavor to match this fabulous dish).
We loved the leftovers all week long, and I bet you will too. So far, we feel the luck of this pork loin in our first week of the year. Happy New Year, friend! I am so grateful for you.
fig and sausage stuffed pork loin
Servings: 6-8
Difficulty: moderate
WHAT YOU NEED:
3lb pork loin
1 tablespoon butter
1/2 pound loose sausage (I used Italian)
1 cup dried figs, chopped small
3 tablespoons fresh sage, leaves rubbed
3 tablespoons fresh thyme, de-stemmed and chopped
1 tablespoons sea salt (+ more to taste)
1/4 cup white wine (I used Fiddleneck Chardonnay)
2 tablespoons olive oil
1 tablespoon dried fennel seed
WHAT YOU DO:
Preheat oven to 425°F.
Add butter to medium high heat pan and cook sausage until starting to brown; then add figs, 2 tablespoons each sage and thyme, and 1-3 teaspoons sea salt, depending on whether your sausage is preseasoned, cooking another minute or so until fragrant.
Add the wine, and continue stirring, cooking about another 3 minutes, until liquid is cooked down; then, move mixture to a bowl and let cool completely.
Now, butterfly your pork loin, by slicing directly down the middle (but not all the way through) and then opening like a book; stuff with fig and sausage mix, close it up, and tie tightly with a twine.
To make the rub, add remaining sage and thyme, plus fennel seeds to olive oil in a small bowl; mix together, and then rub all over all sides of your stuffed pork loin.
Move to baking sheet, fat side up, and bake for 30 minutes; then reduce heat to 350°F and cook for another 25 minutes.
Let rest for 15 minutes before serving. Slice thin, and ENJOY! We enjoyed with honey fermented cranberry brussel sprouts (recipe coming soon), mashed potatoes, and a gravy Rusty made with the pork drippings.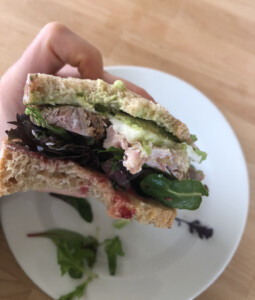 This is also awesome as leftovers on sandwiches! I hope you enjoy with the ones you love this new year, friend. If you do, I'd love to hear about it! Comment below or tag me on social media. Sending love and nourishment, now and always!
Hugs, Laura