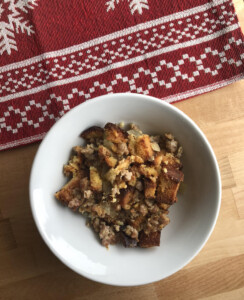 We're going on two years of enjoying this bake as a very special Christmas Eve brunch. That said, it's great all season long, and we've had it many times as a new family favorite dinner too.
Moist sourdough starter cornbread, local sausage, and best flavors of the season all in one, this stuffing is sure to please. Shoot, it might even become a new holiday dinner necessity alongside that turkey. I hope that however you enjoy this recipe, it's with people you love. Cheers to a new year, seeking joy, and nourishing deeply. I am so grateful for the space to share our favorite recipes with you!
This bake pairs beautifully with the clean crafted Gallivant Cab (earthy and light with 0g sugar and so much flavor to match this delicious dish).
cornbread sausage stuffing bake
Servings: 6
Difficulty: moderate
WHAT YOU NEED:
1 batch cornbread, cubed
1 pound breakfast sausage
1 onion, diced
2 tablespoons fresh sage, chopped
1 tablespoons fresh thyme, de-stemmed and chopped
2 tablespoons sea salt (+ more to taste)
4 tablespoons butter
3 eggs
1 cup milk (or alternative)
1/2 cup broth
1 cup cheddar cheese (optional)
WHAT YOU DO:
Preheat oven to 350°F and spread cornbread cubes on a baking sheet; toast for 15-20 minutes until lightly browned
Cook sausage, then move to a large bowl; sauté onions in sausage fat and butter until translucent, then add sage, thyme, and sea salt and cook until fragrant, about 90 seconds; then, mix into bowl with sausage.
In a smaller bowl, mix eggs, milk, and broth until combined.
Toss cornbread into sausage mix, and then pour liquid over it, stirring until all evenly coated. Then gently mix in optional cheddar cheese, reserving 1/4 cup for the top.
Move to baking dish, sprinkle remaining cheese on top, cover with foil, and bake at 350°F for 40 minutes; then remove foil, turn oven up to 400°F and bake for another 10 minutes.
Let cool for 10 minutes before serving. ENJOY! We can't get enough, and I hope this nourishes you  and fills your hearts and bellies the way it has for us. 
I hope you enjoy with the ones you love this year, friend. If you do, I'd love to hear about it! Comment below or tag me on social media. Sending love and nourishment, now and always!
Hugs, Laura