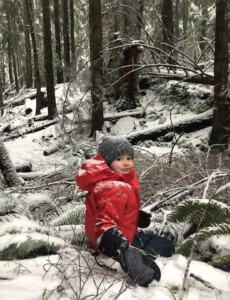 This recipe was born from this year's magical snowy Winter Solstice. We got an unexpected snow, leading us to drop everything and head out to the mouth of the Olympic National park for an afternoon of snow play under the trees with no one else in sight.
We came home happily exhausted and chilly with a craving for something warm and soul filling. So, Rusty went to work in the kitchen creating the creamiest, most delicious hot cocoa I've ever tasted. It's simple, decidant, and nourishing too! Cheers to new traditions, treats, and family time. Enjoy, friends!
scratch made creamy hot cocoa
Servings: 3
Difficulty: easy
WHAT YOU NEED:
2 cups organic half and half
1/2 cup dark chocolate chips
1 tablespoon maple syrup
a pinch of sea salt
WHAT YOU DO:
Set a sauce pan to low/medium heat
Add all ingredients and stir continuously, never letting the liquid bubble.
Heat and stir till combined and creamy, then pour into mugs and savor every moment.
Add a marshmallow for extra fun.
ENJOY with the ones you love!
I hope you'll give this one a try! It's a new favorite over here that we'll wrap our snow days with all season long. If you do try it, I'd love to hear about it! Comment below or tag me on social media. Sending love and nourishment, now and always!