Anyone else out there not convert to a brussels lover until adulthood? I was not into them as a kid. Maybe it was the way my mom hated them because of the way her mom boiled them (sorry, Grandy, but ew). Once I discovered the magic of a good quality fat, salt, flavor, and a very hot oven, I was immediately converted. If you're not with me yet, friend, TRUST.
This cruciferous veggie can be absolutely delicious. In fact, it's become one of my favorites. And this version is so easy that even the kitchen uncertain can knock it out of the park. Promise. Wow your friends this holiday, or anytime.
This dish pairs beautifully with the clean crafted Field House Pinot (earthy and light with only 1.5g sugar per bottle).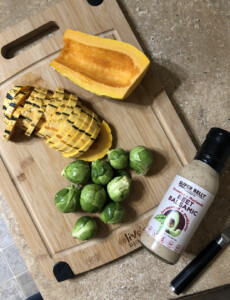 balsamic roasted brussels
Servings: 4-6
Difficulty: easy
WHAT YOU NEED:
a couple cups of brussels sprouts, stemmed and halved
a drizzle of Super Belly Ferments Beet Balsamic (10% off with code: RADICALROOTS)
a sprinkle of sea salt
WHAT YOU DO:
Preheat oven to 400°F
Spread brussles out on a baking sheet and drizzle with balsamic.
Toss with hands and spread evenly, then sprinkle with sea salt
Roast for 15 minutes, then toss, then roast another 15 or until desired crispiness.
ENJOY! I have enjoyed these every day for a week. Can't get enough!
I hope you enjoy with the ones you love, friend. If you do, I'd love to hear about it! Comment below or tag me on social media. Sending love and nourishment, now and always!