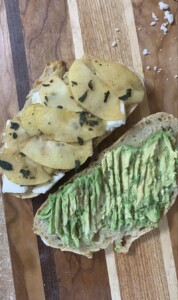 I am on a serious sandwich kick right now. I mean, what's not to love? Fresh sourdough filled with flavors I love and toasted to perfection. You likely know by now that I love sourdough and have put it to use for so many fun and delectable creations. Sometimes, though, keeping things simple with a perfectly prepared sandwich is the way to go. Plus, they're portable and great for packing up for our every adventure.
I am also currently loving all things apple: apple pie, apple oatmeal, sautéed apples with my soft scrambled eggs. So, why not add them to a sandwich? The flavor combination of sage, butter, & apple, plus salty cheddar and thin sliced ham is a real winner.
See for yourself! Enjoy, friends!
ham and apple panini
Servings: 1
Difficulty: easy
WHAT YOU NEED:
2 slices sourdough bread (try baking it yourself!)
1/2 apple sliced thin
1 teaspoon fresh sage, chopped
1 teaspoon butter
a pinch of sea salt
1 tablespoon avocado or olive oil mayo (avoid any canola or seed oils)
1/2 teaspoon balsamic vinegar
1/4 avocado, sliced thin
a few slices cheddar or a scoop of goat cheese
4 slices of organic deli ham
a small handful of sprouts or greens of your choice
WHAT YOU DO:
Set a pan to medium high heat and add butter, apples, sage, and a sprinkle of sea salt; let cook, flipping once, until cooked through, then remove from heat.
Mix together balsamic and mayo until creamy, and spread on one slice of bread. Top with cheese, apple slices, any sage left in the pan, ham, and sprouts.
Spread avocado on the other slice with another small sprinkle of sea salt (if you love salt like me), and then close the sandwich.
Add a little more butter to the pan, and set your sandwich in there; after 1-2 minutes, or when the bottom is toasty and cheese begins to melt, spread some butter on the top half and then flip and toast the other side.
Enjoy warm! 
Happy sandwiching, friends! I hope you enjoy this one. If you do, I'd love to hear about it! Comment below or tag me on social media. Sending love and nourishment, now and always!
Hugs, Laura