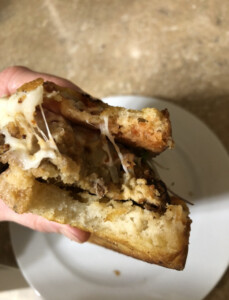 Rusty's been asking for meatloaf for months now, and it was finally time. Knowing the recipe was coming and also seeking to avoid waste whenever possible, I've been saving any extra sourdough from the loaves I bake, cutting them into cubes, and freezing them for future bread crumbs, croutons, or bread pudding.
Are you baking sourdough yet? Find my super simple guide here. You'll also find my ebook with lots of delicious recipes for that sourdough starter and your leftover bread. Happy baking!
Ok, back to meatloaf. This recipe is loaded with nourishment (including cauliflower for extra nutrition) and flavor, and it's SO moist. For me, a dry meatloaf is a hard no, so I was especially relieved when my first attempt at this recipe was as moist and flavorful as I could have possibly hoped. We enjoyed it three nights in a row, and it still didn't get old. We even created a fabulous meatloaf sandwich: a slice with melty cheese and a little extra ketchup toasted up between two slices of fresh sourdough. As Evie would say "BOMB!".
ENJOY!
our favorite meatloaf
Servings: 8-10
Difficulty: moderate
WHAT YOU NEED:
1.5 pounds grass fed ground beef
1 cup

sourdough

bread crumbs*
1/2 head of cauliflower, chopped
1/2 yellow onion, diced
3 gloves garlic, minced
1 carrot, grated
1 tablespoon butter
2 teaspoons sea salt
1 teaspoon dried sage
1 teaspoon fresh or dried thyme
optional: sprinkle of black pepper (we are not pepper people)
2 eggs
2 tablespoons coconut aminos
1/4 cup no sugar added ketchup (we love this one)
Topping: 1/4 cup ketchup, 1 tablespoon dijon mustard, 1 tablespoon coconut aminos
*If you have a fresh loaf or frozen slices, cube, spread on baking sheet and bake until barely toasted. If you've got sourdough that's a few days old, simply cube it and leave out to get slightly stale. Then, put in a Vitamix or food processor and pulse until you have crumbs.
WHAT YOU DO:
Preheat your oven to 350F, spread cauliflower on a pan, and bake for 15-20 minutes to remove excess moisture
Meanwhile, in a large pot on medium high heat, add butter and onions, stirring until cooked through and translucent. Then add garlic and carrot, and stir, cooking until fragrant. Now, add ground beef and spices, continuing to stir and break apart beef until cooked through and evenly mixed. Move to a large bowl.
Add remaining ingredients (but not topping items) to the bowl and mix it up (I like to use my hands) until fully combined.
Spread avocado on the other slice with another small sprinkle of sea salt (if you love salt like me), and then close the sandwich.
Add a little butter to a 9×5 loaf baking pan, and press in your meatloaf. Bake for 30 minutes at 350. Then, remove, mix up topping ingredients and spread evenly over the top. Now, return to the oven and bake for another 25-30 minutes.
Remove from the oven, let cool for 15 -20 minutes, and Enjoy!
Enjoy friends! I hope you enjoy this one. If you do, I'd love to hear about it! Comment below or tag me on social media. Sending love and nourishment, now and always!
Hugs, Laura