Earlier this week, after a grueling CrossFit workout, I had a serious hankering for muffins after a friend mentioned making some for her kiddo. I am big believer in listening to cravings. And I knew that I needed some extra protein to refuel and to prep for the busy day ahead. After a quick perusal of my cupboards, I went to work and the nut buffers were born. Loaded with prebiotics from Organic Gemini tigernut flour (read more about why I love this stuff here), healthy fat from organic almond butter, and plenty of protein from pastured eggs and Mattole Valley goat's milk whey (which I got for a great deal at Thrive Market), these muffins are not only delicious but also nourishing and energy dense.
They're great on the go, after a workout, or as a quality balanced fuel to start your day that take the cake (er muffin) over any of your average energy "health" bars. And while I don't recommend loading up on nuts all the time, this is a great alternative to the usual grab and go breakfast options so many choose. Pick your battles, and be prepared with crap-free foods like this to grab in a pinch. For some, listening to cravings leads to a pizza or donut run. For me, it apparently leads to protein packed muffins. Go figure. Enjoy, my friends. And as always, Live rad!
nut buffer protein muffins (GF)
Servings: 12
Difficulty: easy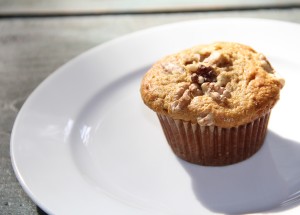 WHAT YOU NEED:
1/2 cup protein powder of your choice (I used this kind, and I highly recommend a good quality whey from grass fed cows or goats)
1/2 cup almond flour
1/2 cup tigernut flour (you can sub in another 1/2 cup almond flour if needed)
1/2 tsp baking soda
1/2 tsp cream of tartar
sprinkle sea salt
4 eggs
1/3 cup raw honey (when we don't have local honey on hand, I get it for a great deal at Thrive Market)
1/3 cup almond butter
1 tsp vanilla
1 tb coconut oil
dark chocolate chips (optional add-in)
chopped walnuts (optional add-in)
*NUT FREE OPTION: swap the almond flour for cassava flour and the almond butter for sunbutter. Texture will change slightly, but still Yum!
WHAT YOU DO:
preheat your oven to 350F and line a muffin tray with paper liners
mix together dry ingredients (protein powder, almond flour, tigernut flour, baking soda, cream of tartar, and sea salt) together in a small bowl, making sure to break up any clumps
in a larger bowl, add eggs, honey, almond butter, vanilla, and coconut oil and mix with a hand mixer until smooth and combined
pour dry mixture into wet and continue to mix until just combined
use a spoon to divvy up the mixture evenly into the cups
just before putting into the oven, drop your optional ad-ins into each cup (this way they won't just settle to the bottom)
bake for 10-15 minutes, being very careful not to overcook or they'll be dry (check them at 10 minutes)
ENJOY!
Let me know what you think! And if you post a picture, tag me @radical.roots on Instagram or Radical Roots on Facebook. I love to see recipes recreated. And please do share! It means the world to me. Cheers!
♡ Laura