Fall is here, Thanksgiving is around the corner, and I am one happy lady. I love this time of year. For the falling leaves, the crisp air, my favorite seasonal produce, and all things pumpkin. Which brings me to the point of this post…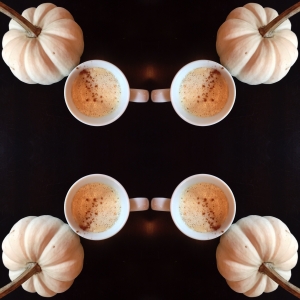 Only a few days into November, and I've already roasted a small patch worth of pumpkins (pumpkin pie anyone?), and there's always leftovers for lattes. I have received more requests for this recipe than for any before, and I am pretty excited to bring to you a clean pumpkin spice latte with all the (real) flavors of fall and none of the crap that certain coffee shops (*cough* Starbucks *cough*) try to pass off as seasonal sustenance. Make this one at home on your own stovetop, and know your nourishing you body and soul.
I use raw, local milk in my version, but if dairy doesn't suit you, feel free to use full fat coconut milk from the can. I recommend whisking the coconut milk up a bit first so that it's extra creamy for your latte. You can whip this one up in a matter of minutes at home on your own stovetop. No lines, no misnomers on your coffee cup, and no junk. What's not to love?
Happy pumpkin latte sipping! And as always, Live Rad, my friends!
Pumpkin Spice Latte (GF, NF)
Servings: 1-2
Difficulty: easy
WHAT YOU NEED:
*you can also find most of these ingredients over at Thrive Market!
 WHAT YOU DO:
brew your coffee (I use a french press because, well, that's the best way)
in a saucepan over medium heat, add all ingredients except for your coffee
heat, stirring until you've got a few tiny bubbles
pour into blender and blend until combined
return to saucepan, and continue to heat, stirring until bubbly and foamy (don't overheat)
pour coffee into your mug and top with milk mixture
stir, sprinkle with a bit more cinnamon, and ENJOY! *sigh* all the fall feelings
Speaking of fall, the holidays are quickly approaching! Have you taken a look at my Thanksgiving Recipe Roundup, yet? All the goodness in one place. Happy Holidays, and cheers to a wonderful year and so much to be thankful for.