Ahhhh summer. It's hard to beat this time of year; sunshine, tank tops, flip flops, cold brew, bright produce, and The CrossFit Games… What's not to love?
First, let's talk about the CrossFit Games. 1 day is done, and what a day it was for my good friends, Jason Khalipa, who is holding his own as an individual, and our NorCal team, who tackled the waves as a team and took first in their heat and second overall this morning in workout 1 at the beach.
(picture courtesy of CrossFit, Inc.)
It's going to be an eventful weekend of amazing competition, quality teamwork, and a lot of fun in the sun. It's hard to beat the atmosphere of the 2014 CrossFit Games. The fittest athletes, the fittest spectators, and all kinds of fun to be had. Stay tuned!!
Now, let's talk about another summer favorite, that bright produce. It's amazing to me how much I crave bright, fresh, colorful produce this time of year. I really think there is something to be said for the way that cravings change depending on the seasons (comfort food in the winter anyone?) I believe this stems back to our ancestry and the fact that at certain times of the year, there was only access to certain types of foods. We've adapted to crave and need certain nutrients cyclically. It's pretty fun to think about this stuff, and it lends more credibility to the idea that we shouldn't get stuck in a rut, eating the same foods, the same meals day in and day out. Sticking to meats, veggies, nuts and seeds, some fruit, little starch, and no sugar is a great start that will make big changes for so many, BUT we can't forget the nutrient density and the importance of variety; eating the rainbow isn't just for Froot Loops (and if you have learned anything from me, I hope you know we should probably avoid eating Froot Loops).
As often as possible, try new produce, shop locally for your food, and eat seasonally.
This will not only help guarantee that you are getting the nutrients your body needs for the time of year, but it will also ensure that you are getting the most nutrients out of that produce possible. Remember THIS post? The colors in the foods we eat do more than give us a pretty plate; they also are a telltale sign of the nutrients provided with every bite.
Those purple plums and pluots, deep dark blackberries, beautiful blueberries, and deep red tomatoes (along with their red, blue, purple relatives) get that color from anthocyanins, also fruits and veggies of this color carry essential vitamins and minerals such as potassium, vitamin A, vitamin C and folate.
Those orange and yellow foods we love (carrots, sweet potatoes, yellow tomatoes, and peppers, to name a few are stock full of carotenoids, folate, potassium, bromium and vitamin C.  Plus, beta-carotene is a carotenoid that your body uses to create vitamin A.
The dark leafy greens that can be found at ever Farmer's stand contain vitamin A, vitamin C, vitamin K, folate, chlorophyll, indoles, and lutein, which may lower your risk for cancer and can help prevent vision problems, among so m any other health benefits.
And this is just the tip of the iceberg. Summer is our time to soak in these nutrients, while enjoying every minute of it! So don't miss out. Find your local Farmer's Market, chose new produce every week, and have some fun in the kitchen, just like I did with this brand new recipe….
Summer Chilled Carrot Curry Coconut Soup
Servings: 8
Difficulty: moderate
WHAT YOU NEED (you can get almost all of this from Farmer's Market):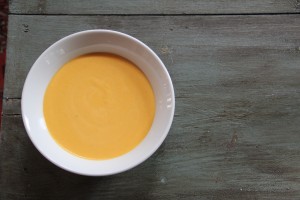 1 bunch of scallions, finely chopped
1 small onion, diced
1 TB finely grated ginger root
2 TB of grass-fed butter, ghee, coconut oil, or tallow ( I use Paleo Butter)
1 TB curry powder (or more depending on your taste)
3-4 large carrots, sliced thin (I keep the skin on)
2 1/2 cups of homemade bone broth
1 1/2 cups of full fat, organic coconut milk (from a BPA-free can)
1 TB fresh lime juice (or more depending on your taste)
sea salt and pepper to taste
ice water as needed to thin soup
Optional garnishes: coconut cream, trimmed scallions, goat cheese, etc.
WHAT YOU DO:
warm a large cast iron sauce pan over medium low heat, and throw in your butter
cook scallion, onion, and ginger root in the butter with curry powder and a bit of salt* and pepper until softened
add carrots and broth, let simmer for 20 minutes covered (until carrots are soft)
in a blender, puree mixture, adding coconut milk until smooth
pour into a bowl and stir in lime juice
chill at least 5 hours or overnight
thin soup with a little ice cold water
add optional garnishes
ENJOY!! We had ours with a beautiful Farmer's Market salad and beef kabobs
Tate the rainbow….. and stay tuned because this is a versatile one! I have two new easy recipes for you that incorporate this chilled soup in all kinds of new ways! I love leftovers and recreating.
♡ Laura