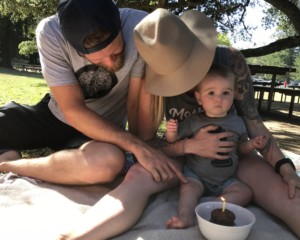 We celebrated Evie's first birthday yesterday with 30+ friends in the sunshine under the same big oak tree where we celebrated her coming birth just over a year ago. It was a magical day filled with great food, delicious wine, lots of laughter, kiddo rough housing, tree climbing, and so much tribe time. Our hearts are SO filled with love and gratitude. What a year it's been.
As you might know if you're following Evie's first foods journey on Instagram or on the Podcast, we haven't given her any sugar or grains at this point, and we plan to keep that up for a while. I did, however, want to make her a special treat to enjoy on her birthday. After all, the smash cake is somewhat of a right of passage, isn't it?
So the morning of her party, I went to "work" throwing ingredients together in Vitamix, crossing my fingers, and praying to the baking gods to let this work out. Guess what… IT. DID. And after sharing the success in my stories, the response was overwhelmingly in favor of sharing. So that, my friends, is what I am doing.
I hope you might make these cupcakes for a very special babe in your life. First birthdays are so filled with emotion, love, celebration, and gratitude. A real food smashable treat is just icing on the cake. Enjoy ♡
[recipe title="Evie's birthday smash cupcakes (grain free and date sweetened)" servings="12″ time="30 min" difficulty="easy"]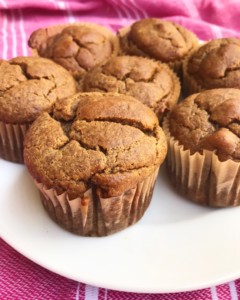 WHAT YOU NEED:
1 cup dates, pitted
1/3 cup filtered water
1 cup of your favorite nut butter (I used Nuttzo Power Fuel for a nice combo)
3 pastured eggs
1 1/2 tsp vanilla
1 tsp baking soda
1/4 tsp sea salt
WHAT YOU DO:
preheat oven to 350F
add baking cups to a muffin pan
put dates and water into your Vitamix or strong blender and blend until smooth and consistent in texture
add remaining ingredients and blend again until you have a batter
pour batter evenly into 12 baking cups
bake for 20-22 minutes until cake tops are lightly browned
let cool, and ENJOY! Evie had hers with fresh berries and Living Cultures Superfood yogurt and they were a HIT! [/recipe]