If having a newborn has taught me anything (it's taught me a lot actually), it's that having easy to grab, nutrient and energy dense, balanced foods on hand is IMPERATIVE. I've had a few wonderful friends bring me date balls of varying sorts that I can store in the fridge and grab as needed. Those are all gone, and damnit, I wanted more, so I went to work to create some that I could make easily and enjoy readily.
I picked up carrots on a recent farmers market trip, but wasn't using them as quickly as I'd hoped. I also happen to LOVE carrot cake, but am working to keep my nutrition on point for  our little Evie. So I went to work creating these super easy no cook carrot cake protein balls. They combine some of my favorite flavors, including the golden berry, which is actually the star of this recipe. If you haven't heard of these little power houses, you're in for a treat. They are PACKED with both flavor and nutrition. Golden berries contain linoleic and oleic acid, two essential fatty acids that aid in insulin sensitivity and fat oxidation. They help normalize blood sugar levels and even offer potent liver and kidney benefits too!
Add in energy dense oats and dates, healthy fats from cashews and coconut, and rebuilding protein from collagen peptides, and you've got a powerhouse of a ball ready to offer nutrition anytime. So get to rolling, and let me know what you think! Enjoy, friends.
No Cook Carrot Cake Protein Balls
Servings: 10
Difficulty: moderate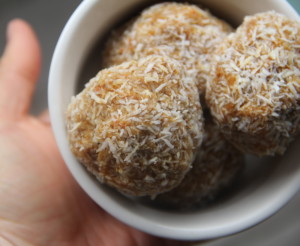 WHAT YOU NEED:
3/4 cup gluten free rolled oats
3/4 cup finely shredded carrots
1/2 cup raw cashews
1/2 cup organic golden berries
6 dates
1/4 cup filtered water
2 servings (4 scoops) collagen peptides
1 tsp vanilla extract
1 tsp cinnamon
1/2 tsp nutmeg
1/4 tsp ground ginger
1/4 cup shredded coconut
WHAT YOU DO:
heat your water and add peptides, stirring till dissolved
pulse oats in Vitamix or food processor until you get a flour-like consistency
add in carrots, vanilla, spices, dates, and collagen water, pulsing until blended nicely into a dough
add in goldenberries and cashews pulse a few more times to break them up into desired chunkiness
form dough into balls and roll around in shredded coconut to cover them (and to make them easier to work with – the balls will be sticky!)
freeze for 2+ hours and ENJOY (I store these in the freezer for the best consistency and easy grab and go)!
I hope you enjoy these! Let me know what you think! Have a question? Want to share your thoughts? Feel free to comment below.
♡ Laura