A few weeks ago, we met my cousin and his family for brunch at this adorable kiddo friendly farm to table restaurant in Los Altos. In fact, the woman who started the restaurant is Mary from Five Mary's Farm. If you haven't checked her and her amazing family out, you should. She's one of my favorite accounts to follow on Instagram. Anyways, I digress. Get back on track, mama brain…
So, at said restaurant, I had the most amazing "avocado toast" of my life. I've never fully understood the craze to be honest. Avocado? Good. Toast? Pretty good (depending on multiple factors). Put them together? Yes, good, but not craze-worthy. That all changed this fine morning, though. Add some flare and extra flavor and whamo… now you've got my attention. I ordered their basic avo toast, which wasn't actually so basic – with local organic radish and cucumber, plus seasoning and black sesame seeds, it was delicious! To take it up a notch, I asked them to add a fried egg AND their smoked salmon. I was still thinking about that meal days later, and so I decided to make my own take on it at home, and by God, I think mine is better. So in the spirit of sharing, I decided to bring it to all of you so you could enjoy it as much as I did, but from the comfort of your own kitchen.
Enjoy! And if you weren't an avo toast fan before, this just might change your mind.
Smoked Salmon Avocado Toast
Servings: 1
Difficulty: easy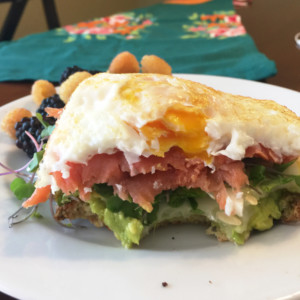 WHAT YOU NEED:
1 slice of bread that suits your needs (I recommend gluten free, paleo friendly, or traditional organic sourdough)
1/2 – 1 whole ripe avocado (I used a whole small one)
1/3 lemon
sprinkle of sea salt
4-5 thin slices of cucumber, peeled (I used a lemon cucumber from our local farmers market)
1/4 cup sprouts or arugula
1 pastured egg
a bit ghee or avocado oil
2 oz cold smoked wild salmon or lox
WHAT YOU DO:
set a pan to medium high heat
scoop the avocado into a small bowl and add sea salt and juice from the lemon (leaving a little bit for one last squeeze), and smash it up until you have a smooth consistency or to your liking
toast your bread in toaster or under broiler to your liking
when your pan is hot add ghee or oil and crack your egg in, keep an eye on it and flip once the whites are no longer clear but yolk is still runny
once toast is toasted, smear an evenly thick layer of avo mash
top with layer of cucumber slices and sprouts or arugula
sprinkle with a bit more sea salt and add squeeze of lemon juice
now add a layer of the smoked salmon
top with your fried egg (yolk should still be somewhat runny but whites cooked through)
immediately ENJOY every single bite!
Let me know if you try this one! I'd love to hear your thoughts. It's quickly become one of my favorite quick yet oh so fancy meals. Enjoy!
♡ Laura