Last weekend my wonderful mother-in-law came to visit and brought us a gorgeous watermelon grown old world style by an 80-year-old man in Paso Robles, California where she lives. I knew I had to do something special with it, so I put this mama brain to use brainstorming ideas. Then, as I was scrolling through the copious amount of food feeds I follow on Instagram, I saw a gorgeous platter of grilled watermelon. GENUIS! I know this was the direction I wanted to go because I'm in love with all things grilled, and I've spent this summer so far (when not nursing or loving on a tiny human) trying to master the grill (note: I am still a work in progress when it comes to most meat, but I've got burgers and now watermelon down!).
The outcome of this adventure was a knock out of the park. Grilling a super sweet watermelon only makes it sweeter. I knew, though, that I wanted more. I wanted to pair the delicious sweet of the watermelon with some of my other favorite flavors. Enter feta, basil, and balsamic – salty, aromatic, and perfectly sweet with a hint of bitter. It's a match made in heaven and much simpler than it sounds. This is the dish I'll bring to our next BBQ invite (now they'll come rushing in I bet). So give this a go for a unique twist on an old summer favorite.
Enjoy and happy grilling!
Grilled Watermelon Salad
Servings: 8
Difficulty: moderate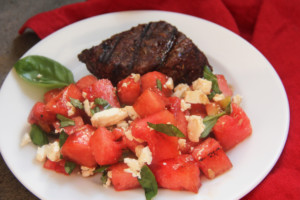 WHAT YOU NEED:
2 ½ lb sweet watermelon, preferably seedless
1/4 cup balsamic vinegar
2 TB extra virgin olive oil
sea salt to taste
1/2 cup feta cheese
1/4 cup fresh basil, roughly chopped
WHAT YOU DO:
set your grill to high
pour vinegar into a small saucepan and bring to a simmer over medium-high heat, stirring with a spoon until reduced to a syrupy consistency (don't heat too long or it will harden)
slice watermelon into about 1″ thick wedges, and brush both sides of melon with 1 TB olive oil
grill watermelon about 2 minutes per side, until grill marks appear (don't grill it too long or it will get mushy.)
move melon to a sheet pan and season with salt to taste then cut into cubes
place cubes in a dish, drizzle with balsamic reduction and another TB olive oil
crumble the feta all over the watermelon and sprinkle with the chopped basil
ENJOY!
I'd love to hear your thoughts! If you are inspired by this recipe and give grilling watermelon a shot, I'd love to see photos. Don't forget to tag me on Instagram! Happy summer, friends! Live rad.
♡ Laura