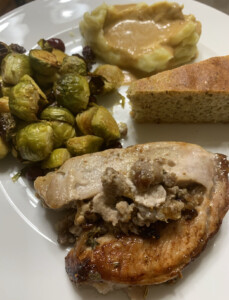 This was an unexpected creation on New Years day when we wanted to pair our fig and sausage stuffed pork loin with a delicious warm veggie side. I am on a real honey fermented cranberry kick, and when I opened the fridge to see what to throw together and saw my jar of flavor packed cranberries, it hit me, and this recipe was born.
We've had it on repeat now because it's so simple, so flavorful, and so nourishing too. Oh and this dish pairs beautifully with the clean crafted Veinte 2018 Red Wine (earthy and bold with just 5g sugar and so much flavor to match this fabulous dish).
crispy cranberry brussels
Servings: 4-6
Difficulty: easy
WHAT YOU NEED:
3 cups brussels, de-stemmed and halved
1/3 cup honey fermented cranberries 
1 tablespoon of the honey from your cranberries
2 tablespoons olive oil, ghee, or bacon fat
1 teaspoon sea salt
WHAT YOU DO:
Preheat oven to 400°F.
Toss brussels and cranberries in honey and oil, spread evenly on a baking sheet and sprinkle with sea salt.
Bake for 15 minutes, flip, stir, and re-spread out then bake for another 15-20 minutes until crispy and desired doneness.
Remove from oven, eat crispy and hot, and ENJOY! 
I love this reheated under soft scrambled eggs the next day! I hope you enjoy with the ones you love. If you do, I'd love to hear about it! Comment below or tag me on social media. Sending love and nourishment, now and always!
Hugs, Laura