Since moving to the Pacific Northwest, we've had the opportunity to pick and enjoy some of the best berries I've ever had, right in our own neighborhood and sometimes, right outside our door. Blackberries are especially prevalent right now, and we've truly enjoyed the abundance.
The bounty of berries has been my inspiration for all kinds of kitchen creations this summer (like this, this, or this, for instance), and the most recent might just be my favorite. So good, in fact, that I put the recipe to the test three times this week to share with husband, guests, and friends. I feel that this last endeavor was the best, and with those final perfecting tweaks, I now bring the recipe to you. But first, I digress….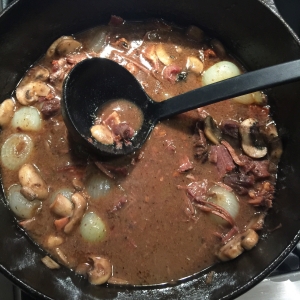 As I've said before, food is meant for more than physical nourishment; it's so much about the emotional nourishment too. That's probably why nothing brings me more joy than sitting down to a nourishing meal that's been made with love, all while laughing and sharing stories with friends. Our recent move to a small town community has brought this joy to our lives on a regular basis. Dinners a never fancy or complicated, but always created with seasonal and local ingredients. Everyone brings something to share, often something made by hand. And community and relationships are always at the forefront.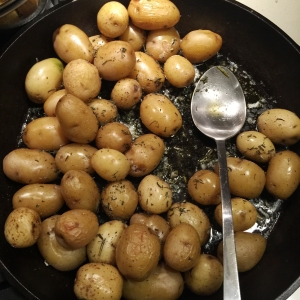 Last night was a perfect example of this. We gathered together with some great friends to enjoy venison stew, butter roasted herb potatoes, and a fabulous seasonal salad. We laughed, we told stories, and we built our tribe – something that tends to be so overlooked in today's fast-paced, work-centered society. I simply love the power of food to bring people together and to nourish on a deeper level than we often take time to realize. Anne and Sean put together the most delicious stew from scratch, and the tastes and flavors were evidence of this. We sat on the ground and enjoyed each bite as we laughed and experienced the moment. There's nothing better….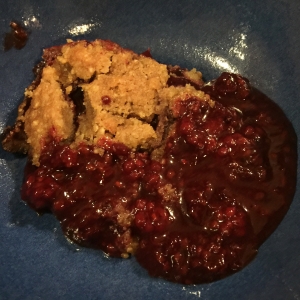 And that's where we come full circle, back to the recipe at hand. We finished the night with this blackberry cobbler, more laughter, and some great red wine. And we went home late that night happy and content. Why? Because humans are supposed to build community. We're supposed to rely on each other (and not just on food) for nourishment. And we are supposed to build a our tribe. We don't have to do it all alone, and one of the first things to consider sharing is the food that nourishes us.
So why not bake this cobbler, invite over some friends, and enjoy the company and love of the people in your life? It's amazing how nourished you just might feel.
Cheers! And as always, live rad, my friends…
The Best Blackberry Cobbler (GF)
Servings: 8-10
Difficulty: moderate
WHAT YOU NEED:
for the crust:
for the filling:
3 1/2 cups of fresh blackberries
2/3 cup coconut or date sugar
1 tsp cinnamon
3/4 cup filtered water
3 TB tapioca flour
1 TB grass fed butter cut into 6 small cubes
*Can't have nuts? you can substitute tigernut for the almond flour. Don't have tigernut flour? Use almond flour instead. The combo listed is the best of all the ones I tried, but it definitely still tastes amazing with the needed subs.
**You can sub grass fed butter in here, but the palm shortening makes for a really great texture and is easier to work with
WHAT YOU DO:
preheat the oven to 350F
for the crust: in a medium bowl, combine almond flour, tigernut flour, tapioca flour, sugar, salt, and baking powder and use your fingers to stir it up, breaking apart any clumps
now add in palm shortening in small chunks and use your fingers to cut the shortening into the flour until you have a crumbly flour mixture
add in 4 TB cold water and gently mix it all together into a dough
put this dough in the fridge to solidify a bit while you make the filling
for the filling: combine berries, sugar, and cinnamon in a saucepan on medium heat and stir until bubbling
stir tapioca flour into 3/4 cup water and stir it up
add tapioca water mix to simmering berries and stir until the mixture thickens up
pour the filling into a pie dish and top with cubes of butter spread out over filling
now add your crust in small dollops, starting thicker around the edges (making sure dough is up against the edges so it doesn't all blob towards the middle) and finishing in the middle
bake for 30-35 minutes until crust is lightly browned and the filling is beautifully bubbling
ENJOY! preferably with the ones you love
Enjoy this recipe? Please share a link to this post and comment below!