The holidays are upon us, and I would like to take some time to THANK YOU. Thank you for reading. Thank you for caring, sharing, and for exploring new ideas, new recipes, and new ways to nourish yourself, the earth, and the ones you love. Because to nourish is to L O V E.
This has been one kick ass year, and I can't wait to see how it wraps up. We've cherished the connection that's come from traveling the country in Homer (our converted van for anyone new here), and we are so fittingly grateful as the holidays approach to have a home base for the colder months, a wonderful family, and a kitchen to make all of our favorite holiday recipes in! I am so so thankful that you're here, reading, sharing, growing alongside us. When you make and share these recipes, it fills my cup in ways I can't quite put into words. It brings us together, it grows this community.
When you take a recipe from my blog and make it for the people you love, you're providing nourishment that goes far beyond the nutrients on the plate; you are nourishing body, heart, and soul, and you are fostering relationships that will continue to grow in health, wellness, and love.
So, thank you for being here. For reading along. And for supporting my small business, especially this time of year. I can't wait to see where things go from here. In that spirit of love, I bring to you a Thanksgiving Recipe Round Up, featuring a labor of love that brings to you 8 delicious recipes that I've put my heart into over the years in the hopes you'll recreate with a little extra addition of your heart too.
Thank you for giving me a reason to cook, a reason to taste, and a reason to keep on keeping on. Cheers!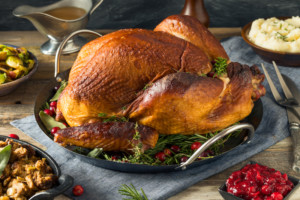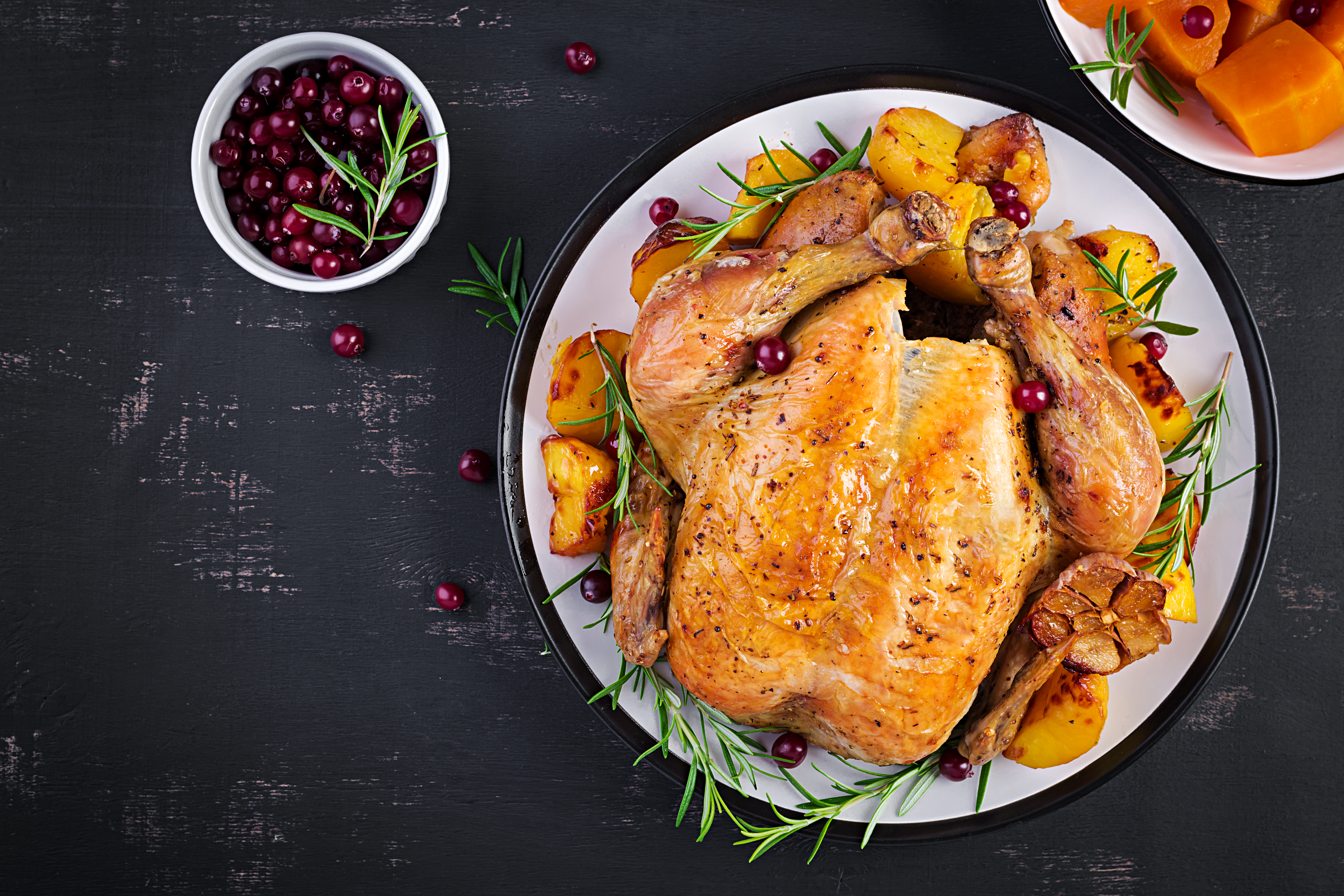 First things first, let's talk TURKEY
HERE is a great turkey buying guide! We'll get ours from a local farmer who we know and trust, and we will be thankful for the happy life of the turkey that will nourish us. We talk to Evie about the bird, it's life, and the gratitude we have for the way it nourishes us. Whole Foods or your local natural market will carry birds too! This is a great chance to ask questions about sourcing that will push for awareness and better options for all. If you can, look for words like "pastured", "free range" "humane certified", and "organic" when turkey shopping.
the BRINE.
Now, no turkey is worth spending all day preparing and roasting without the most amazing turkey brine! So here is the simple brine we use every year.
what you need:
steps:
bring 4 cups of water to a low boil, add sea salt, and bring heat down to low
toast any whole spices in a dry skillet, then crush coarsely and add to water along with honey, bay leaves, and fresh herbs
once salt is dissolved, remove from heat and let it cool to room temp
pour into a large 12 quart stock pot, add remaining water, wine, and zest, and stir
add turkey, cover, and let sit in fridge for 12-24 hours
the ROASTING.
No one likes a dry turkey, so here is a foolproof plan for the juiciest, crispiest, most flavorful turkey ever.
what you need:
brined turkey, patted dry
2 sticks softened butter
2 tablespoons olive oil, plus extra for a final drizzle
1/2 tablespoon orange zest
4 tablespoons lemon juice
3 pressed garlic cloves
1/4 cup chopped parsley
1/2 tablespoon sea salt, plus extra for a final sprinkle
steps:
pre-heat the oven to 430˚F (on the bake, not convection), with oven rack at the bottom (or second from bottom)
mash all ingredients (except your turkey) with a fork until well combined, ensuring you continue mashing and stirring until the lemon juice and butter combine (patience, friends)
gently separate the skin from the turkey breast by pushing your fingers under the skin, from front to back
stuff 2/3 of the butter mixture under skin then spread the butter around by massaging over the top with your hands
rub the remaining mixture over the outside of the turkey, drizzle a little more olive oil all over, and give it one more sprinkle of sea salt everywhere
stuff the quartered onion, 4 halved garlic cloves, 1/2 bunch parsley and quartered lemon inside the turkey and tie turkey legs together
start roasting uncovered at 430˚F for 20 min, then, remove from oven, and baste with butter from the bottom of the dish (spoon works fine here).
reduce oven to 350˚F and bake for another 2 hours 30 min for a 12 lb bird (it'll be about 13 min for every pound of turkey)
check temp with a meat thermometer, and you'll know it's ready when the thigh is 170˚F and the breast is 160˚F
transfer the turkey to a serving platter and cover loosely with foil to rest for at least 1 hour
carve, serve, ENJOY along with these holiday favorites….
---
Now, it's time for a holiday recipe round up!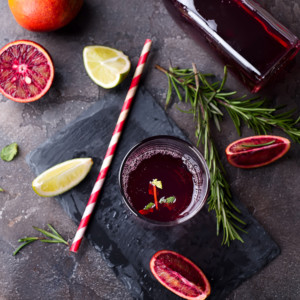 cheers to you
I'll certainly be making a toast in gratitude for a wonderful year, for family, friendship, great food, and all of you here supporting this small business of mine. What will you be toasting to this year? I'd love to read in the comments below. Whatever it might be, how about raising a glass of something that is not only fun, but also nourishing this year? Perhaps that's a glass of one of my favorites: a festive winter hard cider sangria, a holiday special probiotic cranberry spiced kombucha sangria, or a glass of the cleanest and most delicious Clean Crafted wine! Wanting something warming and non alcoholic (though you could add a spirit of your choice), give our homemade creamy hot cocoa a try! Cheers to a festive season and lots of love, friends!
a wild stuffing
Here's where I get a little wild with my take on an hold favorite with my recipe for bacon wild mushroom stuffing where the bread of your typical stuffing is replaced by wild rice, plenty of bacon, mushrooms, and so much flavor!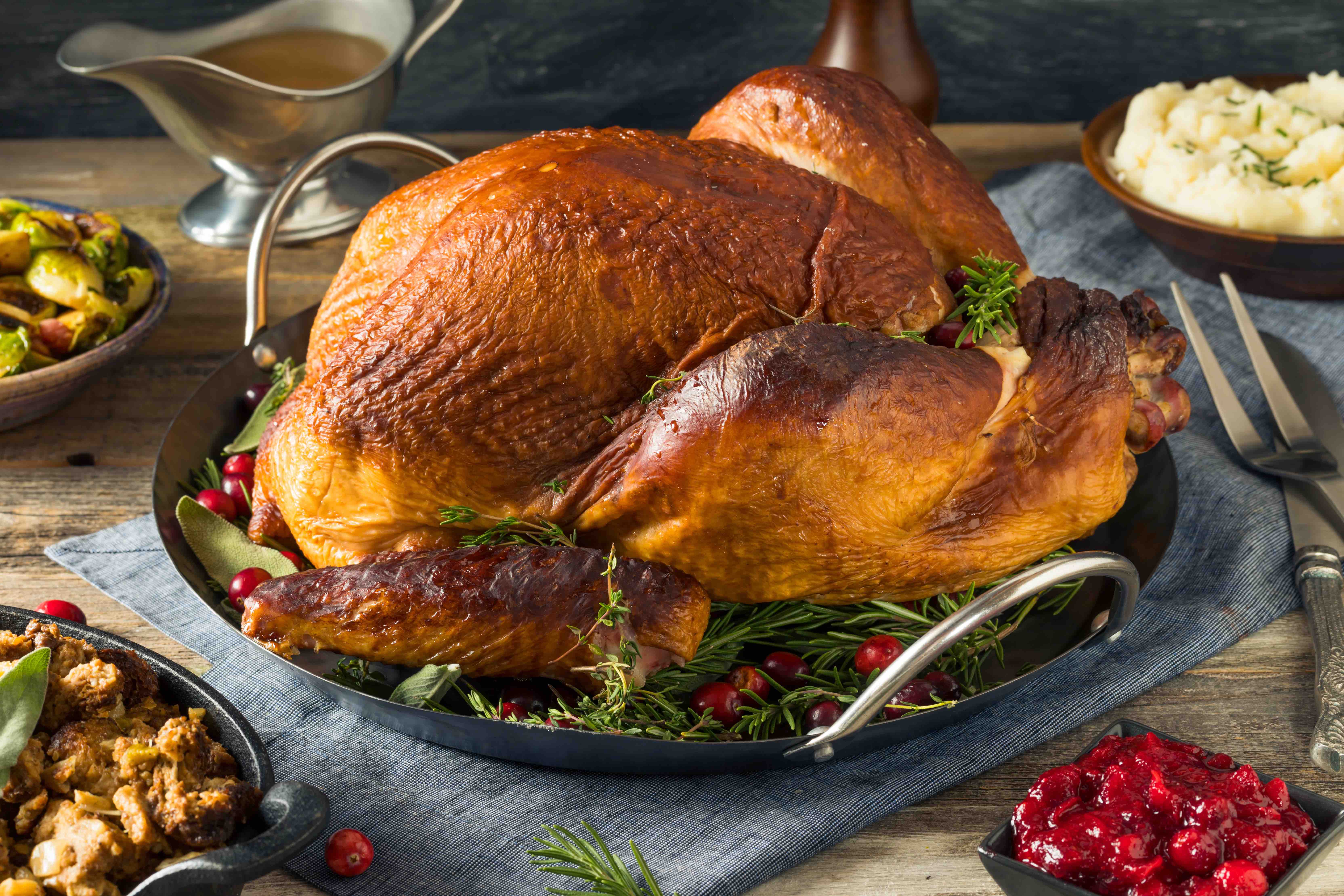 holiday mash and gravy
First up is my recipe for delicious cauli-mash and gravy. And if you want to go with white potatoes, try our favorite mashed "Perfect Mashed Potatoes" recipe from Bon appétit (a must for Rusty every year)
for the brussel sprouts lovers
No Thanksgiving is complete without my bacon apple nut brussies recipe. The apple flavor bursts with bacony goodness, and the pecans provide the perfect nutty crunch. You haven't had brussel sprouts like these before.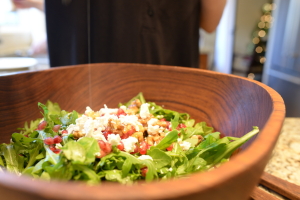 festive holiday salads
Yes, temperatures are dropping, but salad is still on the menu. Trust me on this one, and give my autumn arugula salad a go. It's loaded with spiced roasted squash, pomegranate seeds, maple candied walnuts, goat cheese, and a super simple pomegranate dressing. Another great holiday salad favorite is my warm roasted cauliflower and kale salad. It's a true crowd pleaser that never disappoints!
the cranberry sauce
Who's ready for a homemade Cranberry Sauce everyone will love? First step: step away from the can. Next: give this gelatin rich, fresh and flavorful cranberry sauce a try. Extra perk? You get to take that sauce and turn any leftovers into some delicious cranberry sauce scones to keep the festivities going all week!
Rolls and bread for all
Well, you can't go wrong with fresh baked sourdough, so let's start there. If you're up for baking your own loaf this season, checkout my super simple guide to home baked sourdough and join the Sourdough Sisterhood!
I have even included some delicious, fluffy grain free biscuits for your tasting pleasure. check out my recipe for salt butter biscuits, guaranteed to make everyone happy. They make the perfect vessel for butter, gravy, and soaking up those final perfect bites of your Thanksgiving meal.
Another fail proof holiday side? Try my sourdough starter cornbread. Moist, delicious, and a new addition to our holiday by request of Evie Wilder. Pairs beautifully with moist turkey and tart cranberry.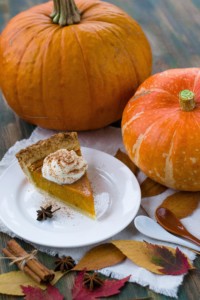 the D E S S E R T
We will start with the results of months of labor (labor of love)… my finally perfected pumpkin pie, made even better now that I am using the sourdough crust from my Sourdough Sisterhood Ebook.  And if that isn't enough, and you want to add a twist to the old favorite, I have created a uniquely delicious, totally original apple butter pumpkin pie. Yum. While, I am at it, I'll go ahead and share that how to for my favorite apple butter, which can be used a spread on all of your favorite pumpkin baked goods or pancakes, as a flavor-filled addition to your chai tea, or even as a great pairing for a perfectly grilled pork chop.
Enjoy, friends! And a very very Happy Thanksgiving. Happy Holidays. And happy every day. Cheers 
and love from my family to yours!
♡ Laura